Wine Traditions – France
The Wine Traditions portfolio has always been a work in progress, perhaps necessarily so, since the early iteration of the portfolio centered on twenty domains from Southwest France, prompting a French commercial attaché to ask Ed whether or not Wine Traditions was a business. Foundational for Ed and Barbara has been the belief that the meaningful expression of land is not limited to a small group of anointed appellations. Over the last two and half decades, the wine selection has been guided by principles similar to those attributed to the architect, Albert Frey; economy, discipline, functionalism, and beauty. As the portfolio has evolved, so has our understanding of the wine traditions of France. They are "rooted" in the land and brought forward through the cultivation and preservation of the vineyards for future generations. The "organic habit of re-creating what has been received and is handed on" allows the perceptive vigneron or vigneronne to give the land a powerful voice through the wines they produce. Their passion inspires us.
Vinotas Selections – France/Italy
Small farmer Organic, Biodynamic and Natural wines that taste
more expensive than they actually are.
Field Recordings – Central Coast-Paso
Field Recordings is winemaker Andrew Jones' personal catalog of the people and places he values most. Our wines are all about the flavor — with none of the pretension.
Spending his days as a vine nursery fieldman planning and planting vineyards for farmers all over California, Andrew is sometimes offered small lots of their best fruit on the side. Having stood in just about every vineyard on the Central Coast, he's all about finding those underdogs with untapped potential. As friendships are made and opportunities are embraced, Andrew produces small quantities of soulful wine from these unusual, quiet vineyards.
HB Wine Merchants – Italy, France, Spain
Baobab Imports – South Africa
Baobab Wines was founded in 2015 with the mission to bring the best of South Africa to the United States. Frustrated with the export driven South African brands that overwhelmed the US wine market we sought out family owned and operated Vineyards from each appellation with a commitment to tell the true story of the South African wine industry – our history, our terroir, our culture, and what is driving the future of winemaking in South Africa
Thirsty Owl Estates – Finger Lakes, NY
Selected Estates Europe – Italy
Terroirs Export – France
Terroirs Wine Export is best thought of as a "Co-operative" approach to exporting small, artisan French wineries to the US. Thibault Poisson is a Loire Winemaker with expertise in the export business. He has gathered a curated group of exceptional "friends/winemakers" to promote their vineyard sites from the some of the key regions throughout France.
Vinaio Imports – Spain
Vinaio Imports – Spain
Portovino – Italy
For over 20 years, we've been traveling Italy's backroads to create a collection of terroir-driven wines that excite us: characterful daily-drinkers, heritage producers, and fringe outliers. In 2021, we added a small German & Austrian portfolio from producers we've been friends with over the years.
All are certified organic, biodynamic, or practicing organic with a list of best practices. We don't work with large scale commercial wineries, and we don't peddle wines from tank farms to keep the lights on (there are smarter, more environmentally interesting ways to keep the lights on!).
We do the work, knock on the doors, find the producers and the wines, and bring them over the Atlantic with temperature controlled containers that we follow ourselves and load in Italy.
Georgian Wine House – Republic of Georgia
Sera Wine Imports – France
Scenic Valley Farm – Willamette Valley, OR
Airfield Estates / Lone Birch – Yakima, WA
Pioneering a diverse import portfolio of authentic wines from Southeastern Europe, with a foundational focus in Croatia and Slovenia. This new to Hangtime portfolio focuses on minimal-intervention wines that we are sure our customers will love.
Vinum – Slovenia and Croatia
Luminous Hills/Seven of Hearts – Willamette Valley
https://www.luminoushills.com/about
UNION SACRE' WINERY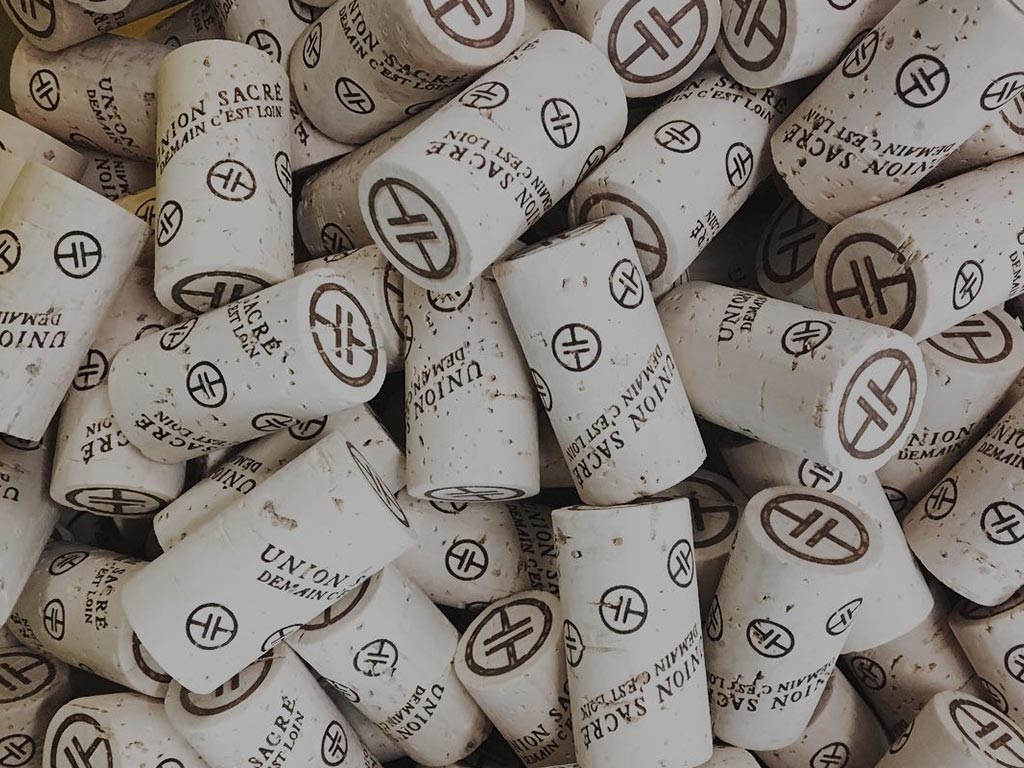 Alcace-inspired wines rooted in California's hidden vineyards
Our latest addition to our Domestic wineries. These are terroir-inspired, small production wines from Lake County's finest vineyard high-elevation sites.
WE LOVE MAINE AND WE LOVE WINE.
We aim to make true, personal wines that connect you to this beautiful state and the delicious wild fruit that has grown here for more than 10,000 years.
Wild blueberries are fundamental to Maine's history, geography, and culture, and they're fundamental to our approach to pure winemaking: using local ingredients from local farmers to produce unique, delicious wines that express the character of where they're from.
Wine for the World is a New York-based import and distribution company of thoughtful, delicious wines. We represent winemakers that have a positive impact on the world, in their communities, and on the environment.
While this often coincides with artisanal wines that are organic, minimal intervention, and natural, our philosophy is broader than that. We were founded in 2013 on a philosophy to support diversity—be it regional diversity, or the people behind the wine. Within our portfolio you will find winemakers who are women, people of color, or people part of the LGBTQ+ community- along with carbon neutral wineries, biodynamic champions, and regional pioneers. Our selections are based on quality, responsible social and environmental business practices, and limited production levels.
Wine for the World helps you discover delicious, thoughtful wines from unconventional wine regions.
We're a young wine import company working exclusively with boutique producers and artisanal family vineyards. We make our selections based on quality, responsible social and environmental business practices, limited production levels, and micro-market share in the US.
In addition to our portfolio of imports, we produce a collaborative brand that brings together emerging winemakers from abroad and established winemakers from the US. Our aim is to highlight talent, promote exchange, and make the wine world just a little smaller.
We believe that it's important to be a responsible global citizen. Our producers employ respectful work environments and fair labor practices for all workers – including living, not just minimum, wages. Also, more than half of our wines, are made by women winemakers. Whether this is simply our palate preference, or intentional, is something we're still trying to figure out."
Hangtime will start off offering 2 Spanish producers:
Dascas Vives Winery Dasca Vives is a family farm located just south of Barcelona and 20 kilometers from the Mediterranean Sea in an area of Catalonia known as the Alt Camp. Josep Dasca and Alba Vives a forestry engineer and agricultural engineer/enologist, have converted the family land where they were raised completely to biodynamic farming principles. Their philosophy is lead by a necessity and responsibility to heal the land by "following the rhythms of the biodynamic calendar, with the concept of nature as the whole macro-cosmos and applying different preparations based on minerals, plants and animals in order to revitalize the soil, the plants and the people it feeds".
Chozas Carrascal Winery -VINO DE PAGO Helmed by María José the daughter of founder María José López-Peidro, this Valencian bodega utilizes modern techniques, many invented by the matriarch herself, to create wines with a singular sense of Mediterranean purity.
Here in Utiel Requena, close to the great Sea from which it receives its influence of long, warm summer days and equally cool summer nights the wines of Chozas benefit even further from the family's deep sense of tradition and respect for their unique biodiversity. The wines are certified organic, and pest control is obtained by planting indigenous flowers, trees and herbs throughout the vineyards, which naturally repel insects, enrich the nutrients in the soil and contribute to the aromatic terroir of the wines.
In the winery, this respect for the 'cultivo ancestral' is maintained through the strict use of native yeasts. All of the red wines are spontaneously fermented and the Bodega is has worked with a local university to create a "yeast bank" from strains obtained in its own vineyards. The wines are never clarified and only in some instances filtered through an organic membrane maintaining purity in all of Chozas wines and remaining perfectly vegan.
Chozas incorporates the least amount of sulfur possible to maintain freshness using one-third the amount allowable by the VdP.
Located in a nature preserve, the winery is committed to reducing carbon emissions. The winery currently uses solar panels to reduce its energy use by one-half and a gas system for temperature control subtracting another 20%, and is close to achieving carbon neutrality.
And we have recently added Adama Winery from South Africa. Born from the collaboration of 8 talented women wine professionals, in association with Bosman Winery's generous contributions, HER Wines will showcase affordable wines in a range of 4 flavors. Learn more at https://www.adamawines.co.za/product
And our latest addition. A local Massachusetts-based supplier with deep roots in Sicily.
Alileo is a celebration of all things Sicilian. Our natural wines are made using traditional methods with varietals from the Wild West Coast of Sicily. We will carry 4 flavors of these delicious and eco-friendly wines, as well as a sparkling wine in 750 bottle.